T

he doors of repentance do Thou open unto me, O Giver of life,
for my spirit waketh at dawn toward Thy holy temple,
bearing a temple of the body all defiled.
But in Thy compassion, cleanse it by the loving-kindness of Thy mercy.
Both now and ever and unto ages of ages, Amen.
Покаяния
отверзи ми двери, Жизнодавче, утренюет бо дух мой ко храму святому Твоему, храм носяй телесный весь осквернен; но яко щедр, очисти благоутробною Твоею милостию.
Pokayaniya otverzi mi dveri, Zhiznodavche, utrenyuyet bo dukh moy ko khramu svyatomu Tvoyemu, khram nosyay telesnyy ves' oskvernen; no yako shchedr, ochisti blagoutrobnoyu Tvoyeyu milostiyu.
G

uide me in the paths of salvation, O Theotokos,
for I have defiled my soul with shameful sins,
and have wasted all my life in slothfulness,
but by thine intercessions deliver me from all uncleanness.
На
спасения стези настави мя, Богородице, студными бо окалях душу грехми и в лености все житие мое иждих; но Твоими молитвами избави мя от всякия нечистоты.
Na spaseniya stezi nastavi mya, Bogoroditse, studnymi bo okalyakh dushu grekhmi i v lenosti vse zhitiye moye izhdikh; no Tvoimi molitvami izbavi mya ot vsyakiya nechistoty.
H

ave mercy on me, O God, according to Thy great mercy
And according to the multitude of Thy compassions, blot out my transgressions.
When I think of the multitude of evil things I have done, I, a wretched one,
I tremble at the fearful day of judgment;
but trusting in the mercy of Thy loving-kindness, like David do I cry unto Thee:
Have mercy on me, O God, according to Thy great mercy.
Множества
содеянных мною лютых помышляя окаянный, трепещу страшнаго дне суднаго, но надеяся на милость благоутробия Твоего, яко Давид вопию Ти: помилуй мя, Боже, по велицей Твоей милости.
Mnozhestva sodeyannykh mnoyu lyutykh pomyshlyaya okayannyy, trepeshchu strashnago dne sudnago, no nadeyasya na milost' blagoutrobiya Tvoyego, yako David vopiyu Ti: pomiluy mya, Bozhe, po velitsey Tvoyey milosti.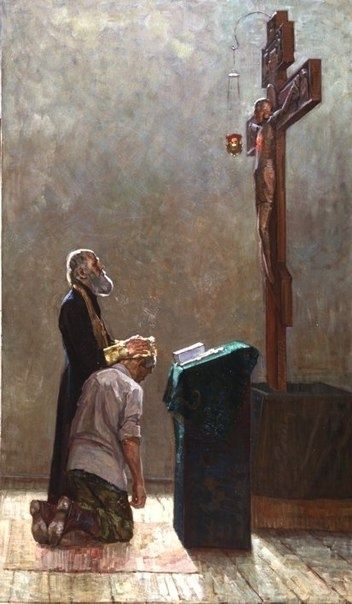 If we confess our sins, he is faithful and just to forgive us our sins, and to cleanse us from all unrighteousness. 1 John 1:9