from THE LIFE AND DIARY OF DAVID BRAINERD
"Thursday, Oct. 21.
Had a very deep sense of the vanity of the world most of the day; had
little more regard to it than if I had been to go into eternity the next hour.
Through divine goodness,
I felt very serious and solemn. O, I love to live on the brink of eternity, in my views and
meditations!
This gives me a sweet, awful, and reverential sense and apprehension of God and
divine things, when I see myself as it were standing before the judgment-seat of Christ.
"Friday, Oct. 22.
Uncommonly weaned from the world to-day: my soul delighted to be a
stranger and pilgrim on the earth;
I felt a disposition in me never to have any thing to do with this
world.
The character given of some of the ancient people of God, in Heb. xi. 13. was very
pleasing to me, `They confessed that they were pilgrims and strangers on the earth,' by their daily
practice; and O that I could always do so! --
Spent some considerable time in a pleasant grove, in
prayer and meditation.
O it is sweet to be thus weaned from friends, and from myself, and dead to
the present world, that so I may live wholly to and upon the blessed God!
Saw myself little, low,
and vile in myself. --
In the afternoon preached at Bethlehem, from Deut. viii. 2. God helped me to
speak to the hearts of dear Christians.
Blessed be the Lord for this season: I trust they and I shall
rejoice on this account to all eternity. --
Dear Mr. Bellamy came in, while I was making the first
prayer; (being returned home from a journey;) and after meeting we walked away together, and
spent the evening in sweetly conversing on divine things, and praying together, with sweet and
tender love to each other, and returned to rest with our hearts in a serious spiritual frame.
"Lord's day, Oct. 24. Felt so vile and unworthy, that I scarce knew how to converse with
human creatures.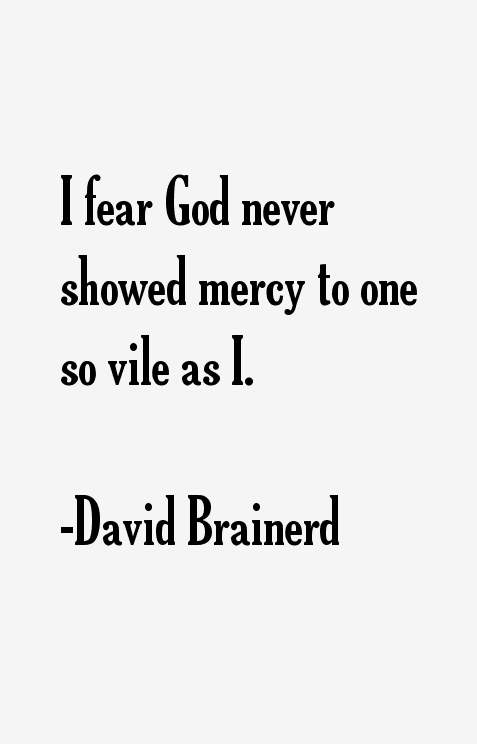 "Monday, Oct. 25. [At Turky-Hills]
In the evening I enjoyed the divine presence in secret
prayer. It was a sweet and comfortable season to me; my soul longed for God, for the living God:
enjoyed a sweet solemnity of spirit, and longing desire after the recovery of the divine image in my
soul.
`Then shall I be satisfied, when I shall awake in God's likeness,' and never before.
"Tuesday, Oct. 26. [At West-Suffield] Underwent the most dreadful distresses, under a
sense of my own unworthiness. It seemed to me, I deserved rather to be driven out of the place,
than to have any body treat me with any kindness, or come to hear me preach.
And verily my spirits
were so depressed at this time, (as at many others,) that it was impossible I should treat immortal
souls with faithfulness.
I could not deal closely and faithfully with them, I fell infinitely vile in
myself. Oh, what dust and ashes I am, to think of preaching the gospel to others!
Indeed I never can
be faithful for one moment, but shall certainly `daub with untempered mortar,' if God do not grant
me special help. --
In the evening I went to the meeting-house, and it looked to me near as easy for
one to rise out of the grave and preach, as for me.
However, God afforded me some life and
power, both in prayer and sermon; and was pleased to lift me up, and show me that he could
enable me to preach. O the wonderful goodness of God to so vile a sinner! --
Returned to my
quarters; and enjoyed some sweetness in prayer alone, and mourned that I could not live more to
God.
"Wednesday, Oct. 27.
I spent the forenoon in prayer and meditation; was not a little
concerned about preaching in the afternoon:
felt exceedingly without strength, and very helpless
indeed; and went into the meeting-house, ashamed to see any come to hear such an unspeakably
worthless wretch.
However, God enabled me to speak with clearness, power, and pungency But
there was some noise and tumult in the assembly, that I did not well like;
and endeavoured to bear
public testimony against it with moderation and mildness, through the current of my discourse. --
In
the evening, was enabled to be in some measure thankful and devoted to God."
The frames and exercises of his mind during the four next days were mostly very similar to
those of the two days past; excepting intervals of considerable degrees of divine peace and
consolation.
The things expressed within the space of the three following days are such as these;
some
seasons of dejection, mourning for being so destitute of the exercises of grace, longing to be
delivered from sin, pressing after more of God, seasons of sweet consolation, precious and
intimate converse with God in secret prayer, sweetness of Christian conversation. --
"Thursday, Nov. 4. [At Lebanon]
Saw much of my nothingness most of this day: but felt
concerned that I had no more sense of my insufficiency and unworthiness.
O it is sweet lying in the
dust! But it is distressing to feel in my soul the hell of corruption, which still remains in me. --
In
the afternoon, had a sense of the sweetness of a strict, close, and constant devotedness to God, and
my soul was comforted with his consolations.
My soul felt a pleasing, yet painful concern, lest I
should spend some moments without God. O may I always live to God! --
In the evening, I was
visited by some friends, and spent the time in prayer and such conversation as tended to our
edification.
It was a comfortable season to my soul: I felt an intense desire to spend every moment
for God.
God is unspeakably gracious to me continually. In times past, he has given me
inexpressible sweetness in the performance of duty.
Frequently my soul has enjoyed much of God;
but has been ready to say, `Lord, it is good to be here;' and so to indulge sloth, while I have lived
on the sweetness of my feelings.
But of late, God has been pleased to keep my soul hungry, almost
continually; so that I have been filled with a kind of pleasing pain.
When I really enjoy God, I feel
my desires of him the more insatiable, and my thirstings after holiness the more unquenchable; and
the Lord will not allow me to feel as though I were fully supplied and satisfied, but keeps me still
reaching forward.
I feel barren and empty, as though I could not live without more of God; I feel
ashamed and guilty before him.
Oh! I see that `the law is spiritual, but I am carnal.' I do not, I
cannot live to God.
Oh for holiness! Oh for more of God in my soul! Oh this pleasing pain! It
makes my soul press after God; the language of it is, `Then shall I be satisfied, when I awake in
God's likeness,' (Ps. xvii. ult.) but never, never before: and consequently I am engaged to `press
towards the mark' day by day.
O that I may feel this continual hunger, and not be retarded, but
rather animated by every cluster from Canaan, to reach forward in the narrow way, for the full
enjoyment and possession of the heavenly inheritance!
O that I may never loiter in my heavenly
journey!"
These insatiable desires after God and holiness continued the two next days, with a great
sense of his own exceeding unworthiness, and the nothingness of the things of this world.